KAISER FOUNDATION SCHOOL OF NURSING ALUMNI ASSOCIATION SCHOLARSHIP FUND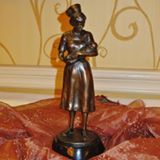 The Kaiser Foundation School of Nursing Alumni Association (KFSNA) began in 1947 when Dr. Garfield, the architect of Kaiser Permanente, vision for the health care organization included establishing a school of nursing that prepared nurses to work in this new prepaid model of care and to train nurses as doctors were - in the science of medicine and focus on the community.
The School was establish as a three-year diploma in nursing at the Oakland Kaiser hospital. The school continued until 1976 and graduated 1065 students.
The heritage and legacy of the School of Nursing is commemorated in the dedication of a life-sized bronze sculpture of a Kaiser student nurse that was gifted to the Oakland Medical Center by the Alumni Association. Dedication occurred June 2015. The sculpture also serves to honor all nurses and their care to patients. The legacy of the School of Nursing continues through scholarships for nursing students. KFSNAA is made up of graduates from KFSN.
DONATE
| | | |
| --- | --- | --- |
| | | |
| This Campaign | 0 | 0% |
| has ended. | Believers | Funded |
This campaign has ended.